The Spirit's fresh wind is blowing across the world today in Harrelson's "break open our hearts with truth" art.
BY REV. PAUL SMITH
Former Pastor of Broadway Baptist Church
I have been the pastor of Broadway Baptist Church for over thirty-seven years. The hallways of our church building hold the Faces of Jesus Gallery, which is my collection of over 150 depictions of Jesus from artists around the world. From Rembrandt to Dali, from ethnic to traditional, I'm always looking for those pictures which will say so much more than I can say in a sermon, and grab our imaginations with the dreams of God.
Then I recently came across Becki Jayne Harrelson's art. Wow!
Some I immediately embraced, such as The Crucifixion. What a powerful work to all of us, gay and straight. Others I wondered about, such as The Last Supper. I first thought, "Oh, she's gone too far — this is frivolous, even sacrilegious." But then I stayed with it while reading the written interpretation, which accompanies her work. I suddenly began to see something about Jesus and what God wants to do in the world today, which I not see before. And yes, it does have to do with frivolity — like the fascinating frivolity and profound playfulness of a jar of perfume poured on Jesus' feet. And it does have to do with being sacrilegious — the very same style with which Jesus blasted away Spirit confining stereotypes and oppressive religious traditions in his day.
In John 16:12, Jesus says, "I still have many things to say to you, but you cannot bear them now. When the Spirit of truth comes, the Spirit will guide you into all truth." God's Spirit is indeed teaching me many things I could not "bear" before. The Spirit's fresh wind is blowing across the world today in Harrelson's "break open our hearts with truth" art.
I am eager for her beautiful prints to grace our walls with their mind-blowing, heart-filling, Gospel message.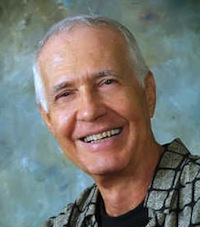 Rev. Paul Smith is a gay Christian author and former pastor of the Broadway Baptist Church where he curated the Faces of Jesus Gallery. Ordained by the Midwestern Baptist Theological Seminary, Smith received the prestigious GLAAD Leadership Award in 1995. He has created hundreds of CDs, numerous brochures, booklets and published articles on his theological beliefs and practices. Smith also wrote two chapters for the book, Enabling Dialogue About Homosexuality.
Smith's Books
Integral Christianity: The Spirit's Call to Evolve
It Is Okay To Call God Mother? Considering The Feminine Face Of God
Rev. Paul Smith's website
revpaulsmith.com